At Northeast Contracting Corporation we've provided professional roofing, repair and maintenance services to the District of Columbia, Virginia, Maryland and Florida since 1994. Our high-quality products, commitment to excellence, and industry expertise are the key elements which have kept us strong in the ever-changing economy.
NECC is a family owned-business. Brothers Eion and Sean Kelley are especially involved in the daily operations of the business, ensuring we can stand firmly behind our products and services. Our unmatched work ethic and responsive nature guarantees each project leaves a lasting positive impression and consistently exceeds the expectations of every client.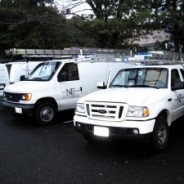 Our Employees
The bridge between the mission of NECC and the output of its support staff is maintained through proper product application, safety training and supervised project coordination by qualified, on-site foremen. The high retention rate of our staff lends itself to competent and efficient work flow, as well as the trustworthiness and reliability of our team as a whole.
Memberships
• Better Business Bureau
• National Roofing Contractors Association
• National Roofing Association
• RCI
Call NECC today to discuss your commercial roofing project: (703) 370-8890
We have provided exceptional roofing services in DC Metro, Baltimore Metro, VA, MD & FL since 1994.